Published: August 26, 2004

Press Release
Mega Bloks Launches Its New Product Line Nano Building System(TM) in New York City
Mega Bloks Inc. is launching Nano Building System(TM) in Times Square and other select New York City locations this week. With pieces as small as a pencil eraser, Nano Blok is the world's smallest building-block system.
The launch began in Times Square yesterday and included a Nano car circling Times Square, product sampling, surveying, Nano Blok Chariots (branded Segways) and a New York City skyline made from Nano building blocks (see picture attached). On Saturday and Sunday of this week, the Nano Blok Chariots will make their way through Manhattan's most popular pedestrian districts.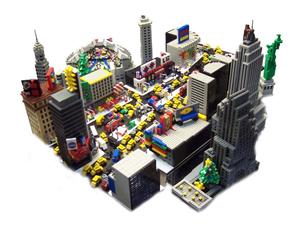 The new miniature building system is designed specifically for action, incredible high definition and awesome performance. Building sets offered this year include the Basic Nano Assortment -- six different styles across five color-coded themes: RACING, RESCUE, CONSTRUCTION, MILITARY and CLASSIC/SHOW vehicles. Each vehicle comes in a multi-use display/storage case with built-in NANO-RULER for measuring projects under construction, NANO-FIER MAGNIFYING LENS for close-up detail work and track ramps that connect to other sets. Most Nano sets come with electronic sounds and some with light to make the vehicles and play experience all the more exciting.
To read the complete release at NewsBlaze,
Mega Bloks Launches Its New Product Line Nano Building System(TM) in New York City,
Click here
Related Marketwired Releases News
Echo Automotive, Inc. , a developer of technologies enabling the cost-effective conversion of existing fleet vehicles into fuel-efficient hybrids and plug-in hybrids, today announced the Company has joined CALSTART, North America's leading advanced ...
VMware and SAP AG today announced a new model to deliver SAP Core Solutions and SAP HANA® in the newly announced VMware vCloud® Hybrid Service™. The joint offering is designed to allow customers to consume SAP solutions on VMware ...
Dover Saddlery, Inc. , the leading multi-channel retailer of equestrian products today announced that, on May 17, 2013, it received a deficiency letter from the Listing Qualifications Department of The NASDAQ Stock Market. The letter stated that, ...
Clearly written technical content that is concise, consistent, and styled to reach globally diverse audiences creates the most cost-effective, high-quality localized content. Simple word use and easy-to-read sentences positively impact translation ...
Wine growers in the Garden State are planning a festive weekend to usher in the 2013 summer season as the Annual Blues and Wine Festival is set for Memorial Day Weekend in Natirar Park, with the scenic hills of Somerset County providing a ...
Ocean Rig UDW Inc. , or Ocean Rig or the Company, an international contractor of offshore deepwater drilling services today announced its unaudited financial and operating results for the first quarter ended March 31, 2013.