Published: December 06, 2004

Press Release
Hypercom's Founder George Wallner Joins VeriFone's Founder Bill Melton and TNS's Founder Jack McDonnell as WAY Systems Board of Directors Member, and Series B Round Investor
WAY Systems, Inc. , a leading provider of Wireless and Mobile Phone-based POS Solutions today announced it has secured an undisclosed amount of investment funding from George Wallner, the Founder and former President and CEO of Hypercom, a leading global provider of electronic payment solutions, completing its Series B round.
Mr. Wallner's investment follows other recent noteworthy investments from industry leaders including Visa International, Transaction Network Services (TNS) and Bill Melton, Founder of VeriFone. Mr. Wallner also joined WAY's board of directors. These new investors and board members bring exceptional operating experience and industry relationships to WAY Systems.
"We are honored that George Wallner has joined hands with other industry veterans to support the growth and acceptance of WAY Systems solutions in the wireless POS industry," said Will Graylin, Founder and CEO of WAY Systems. He continued, "Their support puts us on track in achieving our vision of becoming a leader in the wireless POS industry."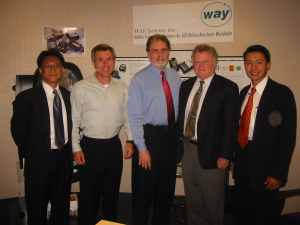 To read the complete release at NewsBlaze,
Hypercom's Founder George Wallner Joins VeriFone's Founder Bill Melton and TNS's Founder Jack McDonnell as WAY Systems Board of Directors Member, and Series B Round Investor,
Click here
Related Marketwired Releases News
and this improvement translates into more effective campaigns, according to new research by The Boston Consulting Group.
This little piggy went to market, this little piggy stayed home...for fear of revealing his ugly toenail. 40 million Americans struggle with unsightly toenails and many of them dread the summer months when feet are fully exposed at the pool or ...
Rocky Mountain Chocolate Factory, Inc. to Host FY2013 Operating Results Conference Call on Thursday, May 23, 2013
The public warning issued on May 16, 2013 has been updated to include additional product and distribution information.
The directors and management of Strata-X Energy Ltd. are pleased to announce the appointment of David L. Hettich as Chief Financial Officer of the Company and the appointment of Shaun Maskerine as the Company's Canadian Corporate Secretary.
The Honourable Rob Nicholson, P.C., Q.C., M.P. for Niagara Falls, Minister of Justice and Attorney General of Canada, today welcomed the passing in Parliament of the Nuclear Terrorism Act. The legislation will help keep our streets and communities ...