Press Release
Pixela ImageMixer(TM) 2.0 Now Available for Download
TargetCast Inc. today announced the worldwide availability of ImageMixer(TM) Version 2.0.
ImageMixer 2.0 lets consumers edit pictures and movies and burn them onto CDs and DVDs. The download is available for US$49.95 for the Windows version from Pixela's e-store at www.pixela-1.com. ImageMixer 2.0 can be used as replacement software for some Sony cameras that came with ImageMixer 1.0, ImageMixer 1.5, and ImageMixer VCD 2. (DVD disc camcorders excepted.)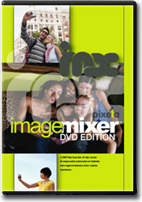 "ImageMixer is a great application for people who want to get more out of their digital still and video cameras," said Nick Kovac, Marketing Manager for ImageMixer. "ImageMixer 2.0 is a handy multimedia application that enables users to capture, organize, edit and print. It includes features for creating Video CDs and DVDs which can be played back in any DVD compatible player, making a great way to preserve and share those precious memories."
About Pixela Corporation
Founded in 1982, Pixela Corporation (TSE: 6731) is a leading manufacturer of PC peripheral hardware and developer of software solutions -- from driver development to complete multimedia applications -- for digital cameras, color printers and other input peripherals. Pixela's products are sold worldwide and support a broad range of hardware input/output devices, and the Windows, Macintosh and Linux platforms. The company has established strong OEM relationships with Canon, Sony, Matsushita Electric, JVC, Hitachi, Fuji-Xerox, Fujitsu, Kyocera, Fuji Film, and Sharp. Pixela has offices in Osaka and Tokyo, Japan, and in Shanghai, China.
To read the complete release at NewsBlaze,
Pixela ImageMixer(TM) 2.0 Now Available for Download,
Click here
Related Marketwired Releases News
Cisco today unveiled Instant Connect, a cost efficient push-to-talk communication solution for personnel in a number of sectors, including manufacturing, healthcare, campus and enterprise employees. This new solution allows a group of mobile users ...
FireEye®, Inc., the leader in stopping today's new breed of cyber attacks, today announced the appointment of Kara Wilson as chief marketing officer , effective August 19. As CMO, Wilson will oversee global marketing and communications at ...
mother, daughter, wife, housekeeper and employee. For women who use catheters, they have to worry about the costs. Government Medical Supplies of Washington, D.C. is making catheters available to women with Medicare PPO`s and private insurance who ...
Seculert , the cloud-based advanced threat protection solution, announced today the release of a new version of their service. The new version features the general availability of their Elastic Sandbox technology , an updated application ...
R&D Magazine bestowed one of its coveted R&D 100 Awards on Proteus co-developers Battelle, The Columbia Group and Bluefin Robotics.
Rising star chefs will be center stage at this summer's Western Foodservice & Hospitality Expo. The Expo is partnering with Brad Metzger Restaurant Solutions Hospitality Recruitment to bring this fast paced and energetic Rising Star Chef ...