Published: March 02, 2009

Press Release
Albeo Technologies "C-Series" White-LED High Bay Light Fixture Wins Award From U.S. Department of Energy
First Market Ready Solid-State High-Bay Light Fixture Reduces Maintenance and Energy Consumption

Albeo Technologies, a leader in LED lighting, receives the U.S. Department of Energy's Next Generation Luminaire (NGL) Market Ready Award for their C-Series(TM) white-LED Solid-State High Bay light fixture. The NGL award recognizes manufacturers who develop innovative commercial luminaires that are energy-efficient and provide high lighting quality and consistency, glare control, lumen maintenance, and luminaire appearance needed to meet specification lighting requirements.
Albeo's winning C-Series(TM) LED High Bay luminaire is designed to replace 400 W HID light fixtures that are used for general illumination in large buildings such as warehouses, manufacturing facilities, retail stores, cold storage facilities, gymnasiums, and convention centers. Using patent-pending TEMPR(TM) thermal technology, Albeo's LED High Bay lowers energy usage and reduces maintenance costs.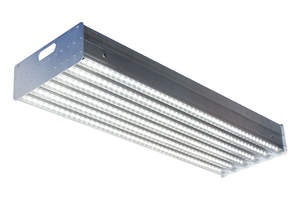 To read the complete release at NewsBlaze,
Albeo Technologies "C-Series" White-LED High Bay Light Fixture Wins Award From U.S. Department of Energy,
Click here
Related Marketwired Releases News
Buy a holiday home with Haven this May Half Term and receive GBP 1500 off, but hurry - offer ends 2nd June! With deals like this, holiday home ownership has never looked so appealing!
Universal Weather and Aviation, Inc. announced at EBACE2013 that it is now working with TRACE, the global leader in innovative anti-bribery due diligence and compliance solutions. Working with TRACE is part of ongoing efforts by Universal® to ...
In-flight catering provider Air Culinaire Worldwide® announced it has opened a new satellite kitchen at Stansted Airport . The satellite facility at Stansted will be based in the recently renovated FBO of Universal Aviation UK.
Pfaff/Alegra Motorsports Starts 2013 Season on Top
CDx Diagnostics announced today that new data from routine clinical use in a number of academic GI centers continue to support use of company's WATS3D as an additional surveillance tool to increase detection of dysplasia and Barrett's Esophagus. ...
NYNE, an innovator of lifestyle inspired audio products, has the perfect gift for your graduate that can be used anywhere life takes them. As you send your graduate off into the world, give them a NYNE portable Bluetooth speaker that takes their ...