Published: April 14, 2009

Press Release
Concetto(R) by CaesarStone Adds to the Style and Beauty of HStudio Furniture Designs

Concetto by CaesarStone, the breathtaking surface art created from semi-precious stones, has evolved into a luxury table and furniture line. Shlomi Haziza, a leading international artist, is incorporating Concetto hand-made surfaces as well as the energy semi-precious stones are known for, to influence the atmosphere anywhere in your home.
Haziza, originally from Israel, came to Los Angeles in 1991. After his move he began working in acrylic. He has spent decades finding new ways to use color and sculpting techniques to expand the nature of the material. The payoff is having his sculptures and designs featured in art galleries, museums and private collections.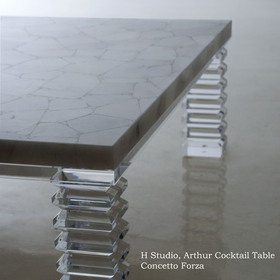 To read the complete release at NewsBlaze,
Concetto(R) by CaesarStone Adds to the Style and Beauty of HStudio Furniture Designs,
Click here
Related Marketwired Releases News
Looking for a taste of Gatsby's life and times, Lurhman style? Then take your cue from his film, ignore Fitzgerald's Long Island 'Eggs' and head for Sydney. Yes, Australia. If Baz could film Moulin Rouge on home ground then why not The Great Gatsby?
The most elegantly articulated information technology strategy isn't worth the paper it's printed on if it isn't implemented, Frank Petersmark, CIO advocate at insurance technology consultancy X by 2, writes in the Interpreter magazine, published ...
HP today announced the HP ENVY Rove20 mobile All-in-One PC, the company's first mobile All-in-One PC, which frees the desktop PC from the desk and allows families and friends to enjoy a shared entertainment experience with a built-in battery, ...
delivering solutions ideally positioned to address today's evolving PC market with dramatically increased performance and power efficiency, as well as a portfolio of unique user experiences, and superior gaming and graphics:
Goldeye Explorations Limited wishes to announce that it has changed the date of its annual and special meeting to July 25, 2013 to enable it to present to shareholders the following special business in addition to the regular annual business of ...
Deep Tours and Travels , a Mumbai based IATA approved proprietor travel firm, announced today that it has partnered with Assist America to provide global emergency assistance services to its members.