Published: August 11, 2009

Press Release
iPhone and Mobile Porn Deal Signed Between iPorn.com and Pink Visual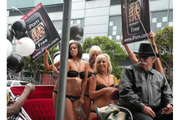 In a deal that brings together two leaders in the mobile porn market, iPorn.com (www.iporn.com) today announced a deal with Pink Visual's mobile division (www.ipinkvisual.com) under which iPorn will distribute Pink Visual's mobile content on mobile.iporn.com.
"We did a very thorough search for the best mobile content available to supply to our members, and all signs pointed to Pink Visual," said iPorn.com Chairman Francis Koenig. "We even hit mobile porn review sites, like MobilePornReport.com, to check on the feedback from site reviewers and get the input of third parties, and Pink Visual's sites consistently drew high marks."
To read the complete release at NewsBlaze,
iPhone and Mobile Porn Deal Signed Between iPorn.com and Pink Visual,
Click here
Related Marketwired Releases News
OZ Minerals proposes $2.6 million of copper-gold exploration work at Mt Woods during 2013-14 IMX Resources Limited is pleased to provide updated information on the progress of its exploration joint venture with OZ Minerals Limited , known as the Mt ...
Petrolia announces today that, due to prevailing market conditions, it has chosen to withdraw its previously announced marketed private placement of units.
The Conference Board of Canada, a not-for-profit applied research organization in Canada, was hired by Canada Post to do a study on the challenge of sustaining postal service. This report can be found at:
ShaMaran Petroleum Corp. announces that, further to the news release dated March 15, 2013, the Annual General and Special Meeting of ShaMaran will be held at Suite 2000, 885 West Georgia Street, Vancouver, British Columbia, V6C 3E8 on Tuesday, June ...
Alexander Energy Ltd. , announces that a workover/recompletion on the upper Detrital sand at 11-12-56-27W4 tested oil at over 260 bbls/day .
The Arizona Lottery announces that the winner of the $1 million Powerball second prize from the drawing on May 11 has come forward. This is the 22nd $1 million Powerball second prize winning ticket sold in Arizona since $2 Powerball launched in ...