Published: March 03, 2010

Press Release
Four Winds Casino Resort W Club Members Have a Chance to Win Two BMWS and a Share of $25,000 in March
All New Dinner Menu at The Buffet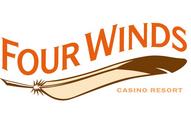 Four Winds Casino Resort, the premier gaming destination in the Midwest, is pleased to announce that it will award two new 2010 BMW® 328i's along with a share of more than $25,000 to W Club Members in March. Additionally, The Buffet at Four Winds Casino Resort is featuring a new menu for a limited time.
On Saturday, March 27, drawings for a share of over $25,000 in cash will be held hourly between 1 p.m. and 11 p.m. The drawings for the 2010 BMWs, each valued at over $34,000, will be held at 3 p.m. and at 10 p.m. Each winner of the BMW 328i cars will also receive an additional cash prize of $3,000. W Club members can receive one free entry daily through Saturday, March 27, by visiting the W Club Players Club. Players can earn additional entries by playing slots or table games with their W Club Players Club card. More information on this promotion is available at the W Club inside the casino.
To read the complete release at NewsBlaze,
Four Winds Casino Resort W Club Members Have a Chance to Win Two BMWS and a Share of $25,000 in March,
Click here
Related Marketwired Releases News
Barona Resort & Casino will host a baseball-themed party pit on Wednesday, May 22, offering players a chance to hit a homerun and win big cash prizes.
ZMDI, a Global Semiconductor Company, Extends its Portfolio of IPv6-Based Low-Power Wireless Mesh-Networking Modules With Advanced Network Layer Security With the ZWIR4512AC2
Aspect Software Fortifies Front and Back Office Suite With Introduction of Real-Time Work Management
Pressure BioSciences, Inc. today announced financial results for the three-month period ended March 31, 2013 and provided a business update.
ARC Document Solutions, Inc. , the nation's leading document solutions company for the architecture, engineering, and construction industry, today announced it was recognized as a global leader in managed print services by imaging research and ...
an award honoring New Jersey-based companies that exemplify the entrepreneurial spirit of the state. The Award was conferred at a gala on Monday evening, featuring a keynote address from legendary marketer and NJ-based entrepreneur, AJ Khubani, and ...