Published: March 04, 2010

Press Release
Panda Express' Honey Walnut Shrimp to Debut Nationwide
First Premium Shrimp Entrée Delivers Sweet Sensation

Panda Express, the nation's leader in Asian dining experiences, announces the launch of its most decadent dish to date, Honey Walnut Shrimp. Debuting at all Panda Express restaurants on March 10, 2010, the premium entrée is made with fresh tempura shrimp, wok-tossed in Panda's signature gourmet honey sauce and topped with glazed walnuts.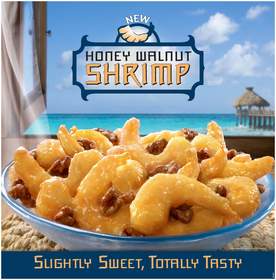 To read the complete release at NewsBlaze,
Panda Express' Honey Walnut Shrimp to Debut Nationwide,
Click here
Related Marketwired Releases News
Kahn Swick & Foti, LLC and KSF partner, the former Attorney General of Louisiana, Charles C. Foti, Jr., remind investors that they have until July 16, 2013 to file lead plaintiff applications in a securities class action lawsuit against Hot ...
The slots at Red Hawk Casino are awarding more jackpots, to more winners, more often. Several lucky players hit slot jackpots for a total of more than $350,000. Just a few of the winners are included below.
Creative Candles has been known to light up the pages of Veranda; Country Living; Martha Stewart Living; Architectural Digest; O, The Oprah Magazine; Southern Living; Martha Stewart Weddings; Spaces; House Beautiful; and more. Last week, in the May ...
-  Leveraging on the success of its first partnership, Trunk Club is partnering with the popular menswear line ETON, to offer a curated selection of exclusive clothing as part of the ETON Designer Series Trunk: Spring Edition.
Music Works NYC Is New Home for Synematik, the Producer Behind New Sony Artist Kat Dahlia's Latest Release, Fireman
Australian Private Equity Posts Steady Gains in 2012