Published: December 01, 2010

Press Release
Brilliant Mining Announces $27.7 Million Transaction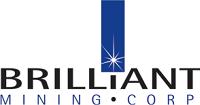 Brilliant Mining Corp. (TSX VENTURE: BLT) (the "Company" or "Brilliant") is pleased to announce that it has entered into a Memorandum of Understanding ("MOU") with Salida Capital L.P. ("Salida"), whereby the Company will complete a private placement with a number of parties, including Salida, in conjunction with the acquisition of Ivory Resources Inc. ("Ivory"), a private company which holds the rights to carry out an airborne geophysical survey in several west African countries and certain preferential rights to acquire mineral interests based on the results of the survey.
The proposed acquisition and placement transaction and related payments in aggregate will require the issuance of 101,851,851 common shares at a deemed value of $0.27 and cash payments of $225,000 for total consideration of $27,725,000. Units issued pursuant to the transaction include 92,592,592 warrants in aggregate, exercisable at a price of $0.45 within two years, for proceeds of approximately $41.7 million.
To read the complete release at NewsBlaze,
Brilliant Mining Announces $27.7 Million Transaction,
Click here
Related Marketwired Releases News
Pfaff/Alegra Motorsports Starts 2013 Season on Top
CDx Diagnostics announced today that new data from routine clinical use in a number of academic GI centers continue to support use of company's WATS3D as an additional surveillance tool to increase detection of dysplasia and Barrett's Esophagus. ...
NYNE, an innovator of lifestyle inspired audio products, has the perfect gift for your graduate that can be used anywhere life takes them. As you send your graduate off into the world, give them a NYNE portable Bluetooth speaker that takes their ...
Sample Solutions LLC., in collaboration with the U.S. Centers for Disease Control and Prevention , today unveiled new research based on an analysis of billions of Likes that consumers have posted on Facebook. The research, available in a white ...
AvianFluTalk.com, an online discussion forum created in 2005 to track the potential threat of an avian flu pandemic, has been the venue for a serious discussion regarding the new SARS-like coronavirus infecting patients at a New York Hospital ...
Health Canada: Three Companies Voluntarily Recalling All Lots of Their Antipsychotic Medication Due to Possible Contamination Issues