Published: November 09, 2012

Press Release
San Diego Private Bank Awarded Preferred Lender Status by SBA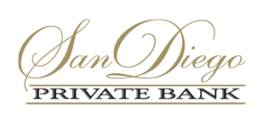 After successfully launching an SBA Division earlier this year, San Diego Private Bank has been awarded Preferred Lender Program (PLP) status by the SBA. The Small Business Administration guarantees a portion of bank loans made to qualified borrowers for up to $5 million at attractive rates and on attractive terms in order to add jobs and stimulate economic growth. PLP status allows SDPB delegated authority to guarantee loans on behalf of the SBA thereby accelerating loan funding.
Michael T. Valenti, Senior Vice President-SBA Division Manager, commented: "From the outset, we structured the SBA division for excellence in client servicing, underwriting and processing, with the intention of building a leading SBA organization."
To read the complete release at NewsBlaze,
San Diego Private Bank Awarded Preferred Lender Status by SBA,
Click here
Related Marketwired Releases News
JCM Global, the world's leading supplier of innovative automated transactions solutions for the banking, retail and gaming industries, is bringing the world's leading cash-handling solutions to the upcoming 60th UITP World Congress and Mobility &...
IMX Resources Limited is pleased to announce the appointment of Mr Sun Wei to the IMX board of directors as a non-executive director. Mr Sun commenced his role as a non-executive director with the IMX Board on 23 May 2013 and replaces Mr Song Yuan ...
Arian Silver Corporation , today announced that further to the Company's previous announcement on 17 May 2013, it has filed a Technical Report dated 23 May 2013 and entitled 'NI43-101 Technical Report Update - San Jose Project, Zacatecas, Mexico'.
Ithaca Energy Inc.: Director and Officers' Share Purchase
Congressional Notables Participates at Jewish American Heritage Luncheon
Nuinsco Resources Limited today announced that its board of directors approved the adoption of an advance notice by-law on May 22, 2013, which requires advance notice to the Company in circumstances where nominations of persons for election as a ...