Published: November 21, 2012

Press Release
Iconic Kenya(R) Dolls Arrive at Family Dollar Stores Just in Time for the Holidays
Most Popular African-American Doll in History Now Available in Four Styles

Family Dollar (NYSE: FDO), one of the fastest-growing discount retail chains in the country, announced today they will be offering the Kenya® doll line in its stores this holiday season. The Kenya® doll line, first unveiled two decades ago, made history when it sold out in stores across the country.
"We're proud to offer merchandise that allows African-American women who grew up with Kenya dolls in the '90s the opportunity to create a new legacy for the children in their lives," said Jocelyn Wong, Family Dollar Senior Vice President of Marketing. "In addition to the classic Kenya doll, which encourages young girls to 'Grow Up Proud,' we are also offering two other newly launched Kenya lines that are designed for babies and tweens."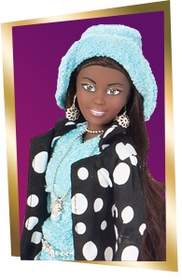 To read the complete release at NewsBlaze,
Iconic Kenya(R) Dolls Arrive at Family Dollar Stores Just in Time for the Holidays,
Click here
Related Marketwired Releases News
Pfaff/Alegra Motorsports Starts 2013 Season on Top
CDx Diagnostics announced today that new data from routine clinical use in a number of academic GI centers continue to support use of company's WATS3D as an additional surveillance tool to increase detection of dysplasia and Barrett's Esophagus. ...
NYNE, an innovator of lifestyle inspired audio products, has the perfect gift for your graduate that can be used anywhere life takes them. As you send your graduate off into the world, give them a NYNE portable Bluetooth speaker that takes their ...
Sample Solutions LLC., in collaboration with the U.S. Centers for Disease Control and Prevention , today unveiled new research based on an analysis of billions of Likes that consumers have posted on Facebook. The research, available in a white ...
AvianFluTalk.com, an online discussion forum created in 2005 to track the potential threat of an avian flu pandemic, has been the venue for a serious discussion regarding the new SARS-like coronavirus infecting patients at a New York Hospital ...
Health Canada: Three Companies Voluntarily Recalling All Lots of Their Antipsychotic Medication Due to Possible Contamination Issues