Published: November 21, 2012

Press Release
New York Credit Union Celebrates Thanksgiving With International Students

Over 100 individuals including students, faculty, volunteers and community leaders came together to celebrate the 25th annual International Student Thanksgiving Luncheon at Rockland Community College. The event which was sponsored by Palisades Federal Credit Union has been a longstanding tradition at the community college provides RCC's international students an opportunity to learn about American customs and share in Thanksgiving traditions.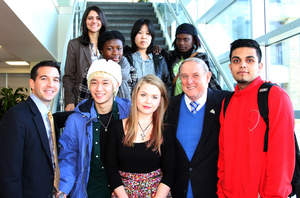 To read the complete release at NewsBlaze,
New York Credit Union Celebrates Thanksgiving With International Students,
Click here
Related Marketwired Releases News
abas-USA hosted the annual User's Conference in Sterling, VA from May 8-10. The three-day event was an opportunity for the abas-USA and ABAS Software AG team to showcase new functionality, features and developments to the software package. ...
In celebration of its 25th anniversary, Wahoo's Fish Taco, a community mainstay and worldwide pop culture phenomenon since 1988, introduces an addition to their menu. The new 'Citrus Slaw Taco' offers a choice of fillings with the slaw ingredients ...
The management of Arianne Phosphate is very pleased to announce that pilot-scale testing of Lac a Paul phosphate ore has now confirmed the commercial scale-ability of column flotation in achieving 39% P2O5 concentrate with a recovery rate of 90%.
The Honourable Rob Nicholson, P.C., Q.C., M.P. for Niagara Falls, Minister of Justice and Attorney General of Canada, today announced the Government's support for Private Member's Bill C-489 , An Act to amend the Criminal Code and the Corrections ...
San Francisco is the epicenter of marketing technology this week as Responsys, Inc. , a leading marketing cloud software and services company, kicks off Responsys Interact 2013, its annual conference that brings together more than 1,000 attendees ...
Scientists, engineers and students at universities across the country will receive significant support from the Government of Canada through the Discovery Grants, scholarships and fellowships. The Honourable Gary Goodyear, Minister of State ...