Published: December 07, 2012

Press Release
One Day After U.S. Education Department Showed Lower Vocabulary Scores for Students, a Michigan Physician and Daughter Launch New Video App, Book and DVD to Significantly Bolster Vocabulary
Program Touts Learning 100,000 New Vocabulary Words in 21 Days
On the heels of yesterday's U.S. Education Department's report showing a continued erosion in vocabulary skills, a father-daughter team from Michigan launched today a video app for smart phones called Vocab Tunes, and a 143-page manual in hardcover and e-book and a DVD called Vocab Tunes Root Words.
Michigan physician Sita R. Kaura, M.D., and his daughter, Manisha Shelly Kaura, currently a pre-med student at Xavier University in Cincinnati, have developed what they call the equivalent of multiplication tables to make it easier for children and adults to read, understand and remember thousands of new words.
"As the U.S. Education Department's report showed, following the old beaten path just isn't working. We need fresh approaches. The way young children are taught to read by parents and teachers in our schools learning only phonics and memorization of sounds and letters doesn't equip a child beyond 1st grade," said Dr. Kaura, who lives in Bloomfield Hills, Mich. "The average high-school graduate has a vocabulary of about 40,000 words. Our approach can teach someone 100,000 new words in 21 days when using phonics and memorization in combination with understanding root words and prefixes."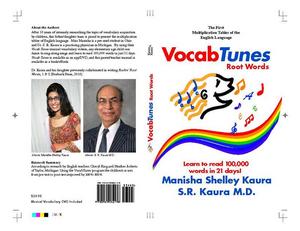 To read the complete release at NewsBlaze,
One Day After U.S. Education Department Showed Lower Vocabulary Scores for Students, a Michigan Physician and Daughter Launch New Video App, Book and DVD to Significantly Bolster Vocabulary,
Click here
Related Marketwired Releases News
Ericsson and Refugees United announce Global Hack for Good to connect refugees to missing families
Alexco Resource Corp. today reports it has received the completed and signed Water Use Licence amendment from the Yukon Water Board allowing Alexco to process mill feed from its Onek and Lucky Queen mines in the Keno Hill Silver District in Yukon, ...
Sea Fibre Networks , owner and operator of Europe's most advanced sub-sea telecoms network, CeltixConnect, today announced the launch of the METRO2C Alliance. Founded by SFN, the METRO2C Alliance is the collaboration of Europe's leading ...
Metamarkets, the leader in real-time analytics for online advertising, today announced that it has been named by AlwaysOn as one of the 2013 OnDemand Companies to Watch. Inclusion in this distinguished list signifies leadership amongst its peers ...
Metso Corporation's press release on May 20, 2013 at 9:30 a.m. local time
Natural & Organic Products Asia Trade Show to Launch in Hong Kong in 2014