Published: December 19, 2012

Press Release
The Only True Anonymous Social Network, 'SocialNumber.com' Goes Live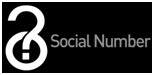 Social media start-up Social Number announced today its release to the public, signaling the movement of anonymity in social networking. The social network enables users to discuss freely topics such as politics, religion, office gossip, dating tips, substance abuse and other issues many may feel uncomfortable to openly discuss, without complete anonymity.
Social networks along the likes of Pinterest and Reddit are up-leveling their anonymous branches and Social Number has empowered the voices for those on one site. Users from around the world can discuss politics, religion or anything else openly without any negative implications. While in beta, Social Number served as a platform across various geographies for discussions around international politics, bad bosses, global warming, issues in college life, company reviews and even dating. At socialnumber.com users can express how they feel, join one of the hundreds of discussion groups or create their own public or private groups on a topic of their choice, connecting with others with just one, unique simple number.
To read the complete release at NewsBlaze,
The Only True Anonymous Social Network, 'SocialNumber.com' Goes Live,
Click here
Related Marketwired Releases News
OCC announced today that its Board of Directors approved the adoption of a policy that would require clearing members to restrict exercises in certain accounts, including market maker and joint back-office accounts to the extent each respective ...
Center for Restorative Justice Works and the California Department of Corrections and Rehabilitation are again bringing hundreds of children to visit their fathers in prison for Father's Day during the 14th Annual Get On The Bus event.
From game changing affordability rules to record low mortgage rates, it has certainly been a tumultuous 5 years for home buyers in Canada. Just how much has the landscape of Canadian housing changed? To commemorate their 5-year anniversary, ...
Volkswagen Chattanooga Builds 250,000th Passat Sedan
The LIVESTRONG Foundation announced today that car2go will become the title sponsor of the first car2go Marathon Relay benefitting the LIVESTRONG Foundation on Sun., Sept. 22 in downtown Austin.
AlarmForce Industries Inc. today announced that it will release financial results for its second quarter ended April 30, 2013.