Published: December 29, 2012

Press Release
What Happens in Vegas on New Year's Stays... So Party All Night With International Model and Multi-Media Sensation Jordan Carver as She Puts Her Assets on Display and Rings in 2013 as Host of PBR Rock Bar's New Year's Eve
When it comes to the clock ticking towards midnight, Times Square's got nothing on the Las Vegas Strip -- especially this year with Jordan Carver (www.jordancarver.com) hosting PBR Rock Bar's New Year's Eve 2013 Celebration.
Currently launching her unstoppable multi-media "JOCA" brand in the U.S., the German born, L.A. based international cover girl sensation will be partying from 9 p.m. till past midnight at the club, one of Vegas' premiere hotspots located at center Strip within the Miracle Mile shops at Planet Hollywood Resort & Casino, across the street from the new Cosmopolitan Hotel. This year's event boasts a premium open bar for partiers 21+ and pre-sale tickets are $100 for a limited time, $200 at the door.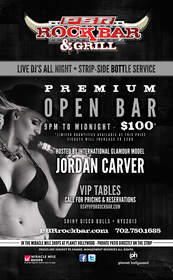 To read the complete release at NewsBlaze,
What Happens in Vegas on New Year's Stays... So Party All Night With International Model and Multi-Media Sensation Jordan Carver as She Puts Her Assets on Display and Rings in 2013 as Host of PBR Rock Bar's New Year's Eve,
Click here
Related Marketwired Releases News
Health Canada: Three Companies Voluntarily Recalling All Lots of Their Antipsychotic Medication Due to Possible Contamination Issues
Royal Military College Saint-Jean marked the end of the academic year with a parade this morning after some 113 officer cadets were presented with a college certificate or diploma in a Convocation Ceremony yesterday evening.
Med BioGene Inc. today, at the request of the Investment Industry Regulatory Organization of Canada , announced that Med BioGene's management is unaware of any material change in the company's operations that would account for the recent increase ...
MANNIX RESOURCES INC. announces that it has settled a total of $232,500 of debt with certain non-arms length parties of the Company .
Robert C. Grey filed an early warning report dated May 17, 2013 advising of their holdings in Mannix Resources Inc. .
Woulfe Mining Corp. provides the following corporate update.