Published: January 03, 2013

Press Release
Jenne, Inc. Unveils Its 2013 Avaya-Oriented Reseller Training for Jenne University
Training Sessions to Feature Avaya IP Office Professional Certification Implementation Workshop, Avaya Communication Manager Basic Administration Workshop, Among Others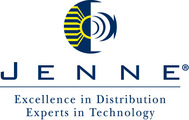 Jenne, Inc., a leading value-added distributor of IP telephony, audio and video conferencing, unified communications, data networking and security and surveillance products, announced its 2013 Avaya-oriented training schedule for Jenne University. This year, Jenne University will run several five-day workshops for technical training on Avaya SMB, mid-size and enterprise class product solutions in many locations around the U.S.
The Avaya IP Office Professional Certification Workshop kicks things off early in the New Year from January 7-11 at Jenne's Avon, OH headquarters before Jenne and its team of expert technical trainers bring Jenne University on the road to work with resellers in Los Angeles, Miami, Boston and Dallas. Jenne will also be running five-day Avaya IP Office Advanced Applications & Troubleshooting and Avaya Communication Manager Basic Administration Workshops in Ohio during the first half of the year.
To read the complete release at NewsBlaze,
Jenne, Inc. Unveils Its 2013 Avaya-Oriented Reseller Training for Jenne University,
Click here
Related Marketwired Releases News
Metamarkets, the leader in real-time analytics for online advertising, today announced that it has been named by AlwaysOn as one of the 2013 OnDemand Companies to Watch. Inclusion in this distinguished list signifies leadership amongst its peers ...
Metso Corporation's press release on May 20, 2013 at 9:30 a.m. local time
Natural & Organic Products Asia Trade Show to Launch in Hong Kong in 2014
Wolters Kluwer Acquires Prosoft in Brazil
Zhaikmunai Q1 2013 Results - Outperforming Targets
Epistem , the UK biotechnology and personalized medicine company with expertise in skin biology and delivery of dermatological testing services, and ScandiDerma, a Norwegian company with expertise in developing new dermatological ingredients from ...