Published: January 08, 2013

Press Release
New Ricki Lake Talk Show Makes Television History With Cheryl Shuman, Showcasing Today's Hottest Legal Cannabis Products
Seven Year Old Leukemia Patient Mykayla Comstock's Parents Share What They Believe to Be a Miraculous Cannabis Cure for Cancer With Rapid Fire Marketing (RFMK); RFMK Will Donate 15% of Affiliate Vaporizer Profits to Assist Family
Rapid Fire Marketing (PINKSHEETS: RFMK), a leading maker of vaporizers as well as the only publicly traded company for vaporizers announced today that Cheryl Shuman, Spokesperson for Rapid Fire Marketing, will be featured on the Ricki Lake Show this Thursday, January 10, 2013.
Ricki Lake is tackling what many consider to be one of the most contentious debates in health care today -- medical marijuana. Ricki conducts a daytime exclusive interview with Erin Purchase and Brandon Krenzler, parents who have made national headlines with their controversial decision to administer medical marijuana to their 7-year-old daughter Mykayla who is battling an aggressive form of cancer. Joining the conversation is their friend and advocate, Cheryl Shuman, whose own battle with cancer led her to be the most powerful woman in the exploding new $47 billion cannabis industry and Dr. David Bearman, Advisory Board Member of Green Asset Incorporated, an expert in the field of Medical Cannabis.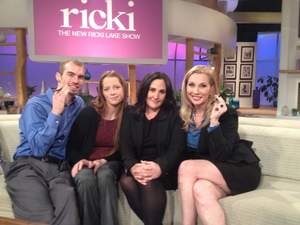 To read the complete release at NewsBlaze,
New Ricki Lake Talk Show Makes Television History With Cheryl Shuman, Showcasing Today's Hottest Legal Cannabis Products,
Click here
Related Marketwired Releases News
Pfaff/Alegra Motorsports Starts 2013 Season on Top
CDx Diagnostics announced today that new data from routine clinical use in a number of academic GI centers continue to support use of company's WATS3D as an additional surveillance tool to increase detection of dysplasia and Barrett's Esophagus. ...
NYNE, an innovator of lifestyle inspired audio products, has the perfect gift for your graduate that can be used anywhere life takes them. As you send your graduate off into the world, give them a NYNE portable Bluetooth speaker that takes their ...
Sample Solutions LLC., in collaboration with the U.S. Centers for Disease Control and Prevention , today unveiled new research based on an analysis of billions of Likes that consumers have posted on Facebook. The research, available in a white ...
AvianFluTalk.com, an online discussion forum created in 2005 to track the potential threat of an avian flu pandemic, has been the venue for a serious discussion regarding the new SARS-like coronavirus infecting patients at a New York Hospital ...
Health Canada: Three Companies Voluntarily Recalling All Lots of Their Antipsychotic Medication Due to Possible Contamination Issues