Published: January 16, 2013

Press Release
Appian Reports Record Q4 Completing Record 2012 Year
98 New Customers Embrace Worksocial BPM Platform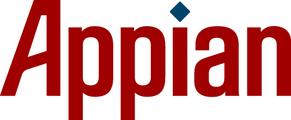 Appian, the market leader in modern business process management (BPM) software, today announced record Q4 2012 company performance completing a record year for 2012. Total orders for Q4 more than doubled over Q4 2011, and grew more than 40 percent over Q3 2012. For the 2012 year in total, Appian achieved record highs in terms of total orders, total revenues, license orders and license revenues. 98 new companies and government agencies joined the Appian customer roster. Roughly one-third of new Appian customers opted for cloud deployment, and Appian's cloud revenue more than doubled in 2012 compared to the previous year. Appian opened a regional headquarters in Australia, and new offices in Melbourne, Singapore and Paris.
New Appian BPM Suite Customers
Organizations around the world continue to turn to the unique worksocial capabilities of the Appian BPM Suite. Appian tightly integrates proven process management leadership with innovative social collaboration, native mobility and portable cloud deployment. The result is real and measureable business value through efficient operations, effective decisions and engaged customers.
To read the complete release at NewsBlaze,
Appian Reports Record Q4 Completing Record 2012 Year,
Click here
Related Marketwired Releases News
Datapipe, a global provider of managed services and infrastructure for outsourced IT and cloud computing, today announced the company has been named a finalist in the Best Large Business Hosting category by the Internet Services Providers' ...
Ericsson appoints new Head of Investor Relations and Head of Corporate Communications
Falcon Oil & Gas Ltd. , is pleased to announce that further to its press release dated 14 January 2013, NIS has executed a drilling contract with Germany-based drilling company DrillTec Grossbohr- und Umwelttechnik GmbH for the multi well ...
66% of ISA savers think, that if they could be increased, cash ISA limits should be brought into line with higher stocks and shares ISA limits for all savers, according to research by Nationwide Building Society, which also reveals that many people ...
Introducing Institutional Investor's Sovereign Wealth Center
Looking for a taste of Gatsby's life and times, Lurhman style? Then take your cue from his film, ignore Fitzgerald's Long Island 'Eggs' and head for Sydney. Yes, Australia. If Baz could film Moulin Rouge on home ground then why not The Great Gatsby?