Published: January 16, 2013

Press Release
Barona Resort & Casino Is First in North America to Debut Amazon Fishing(TM) Slot Machine
Exciting New Interactive Game Is the Recipient of Casino Journal Gold Award for Most Innovative Product

Looking to get a little practice in before fishing season arrives or maybe it just sounds like fun to catch a big exotic fish from the Amazon River? Head to Barona Resort & Casino and you can be among the first in North America to play an Amazon Fishing™ slot machine. Developed by slot maker Aruze Gaming America Inc., this exciting new joystick-controlled interactive slot machine is a Gold Award winner for the Most Innovative Product from Casino Journal and can only be found on the casino floor at Barona Resort & Casino in San Diego.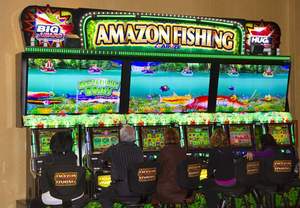 To read the complete release at NewsBlaze,
Barona Resort & Casino Is First in North America to Debut Amazon Fishing(TM) Slot Machine,
Click here
Related Marketwired Releases News
SaveUp , a national online financial rewards program for saving and paying down debt, today announced the findings of its May U.S. Consumer Savings and Debt Report. This month's major findings focus on the aggregate month over month trends across ...
Belo Sun Mining Corp. has received positive results from preliminary metallurgical leach test work conducted with samples from the South Block deposit of its 100% owned Volta Grande Gold Project located in Para State, Brazil.
Timberline Resources Corporation today announced that it has completed an updated technical report on the Butte Highlands Property in Montana that will be filed on SEDAR later today.
Aurcana Corporation issued a news release on May 17, 2013 clarifying certain technical disclosure, in which it advised that the Company's technical report titled 'Technical Report on the La Negra Mine Project, Queretaro, Mexico', dated October 4, ...
Eric Apps, a senior lawyer in the technology practice group at Wildeboer Dellelce LLP, one of Canada's most innovative and entrepreneurial law firms, has called on the Ontario Securities Commission to adopt new exempt market financing requirements ...
Rango Energy Inc. , an oil and gas exploration and development company, is very pleased to announce that Vincent Ramirez, the CEO of Hangtown Energy Inc. and successful oil and gas industry professional, has formally joined Rango Energy's Advisory ...