Published: February 25, 2013

Press Release
Miller Energy Resources Completes RU-3 Gas Well
RU-3 Gas Well Flowing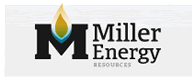 Miller Energy Resources, Inc. (Miller) (NYSE: MILL) announced that its Alaskan subsidiary, Cook Inlet Energy (CIE), has successfully brought a new gas well, RU-3, into production. CIE completed the RU-3 gas workover on Osprey Platform with Miller's Rig-35. After a successful well test on February 16, the gas well was immediately put into production. This new source of natural gas, together with gas produced from CIE's RU-4 well which was previously brought online, further eliminates the need to purchase costly fuel gas from third parties. RU-3 showed an initial post-workover shut-in pressure of 2,135 PSI. The subsequent four-point flow test culminated in a peak flow rate of 3.7 million cubic feet of gas per day (MMscf/d) at a 25/64ths inch choke setting.
The RU-3 work-over consisted of re-completing the well to access a behind pipe gas accumulation in the Lower Tyonek gas sands at a measured depth of approximately 14,800'. RU-3 encountered an average of 20' of net gas pay across an estimated 150-acre reservoir with an estimated minimum of 1.2 BCF of remaining recoverable reserves. The zone produced a total of 452 MMscf between May and December of 2003. At that time, the well went off production due to mechanical problems and had subsequently been plugged back to a shallower zone for an attempted completion. CIE successfully completed a complex fishing job to remove materials and equipment left in the wellbore from this previous completion attempt in order to reopen the deeper proven reservoir and reestablish production.
To read the complete release at NewsBlaze,
Miller Energy Resources Completes RU-3 Gas Well,
Click here
Related Marketwired Releases News
Wipliance, LLC, one of the nation's leading residential systems integrators, today announced that it has been named in the CE Pro 100, an annual list of highest revenue integrators. Wipliance ranked as the 91st highest revenue integrator in the ...
Natoma Technologies, Inc., an innovative provider of information technology and software services, is celebrating 15 years of growth and profitability as a trusted partner to the state of California. To commemorate, Natoma Technologies is hosting ...
Today at Casual Connect Asia, WildTangent announced that it has launched its mobile game service on ASUS tablets worldwide. WildTangent Games offers consumers the ability to play premium games for free and receive free in-game items, all courtesy ...
On October 30, 2013 Hurricane Sandy made landfall on the coasts of New Jersey and New York and made its way inland. Its effects were felt in the way of flooding, power outages, water damage, and approximately 285 people killed. We are over 6 months ...
Marin Software , provider of a leading Revenue Acquisition Management platform for advertisers and agencies, has been named a winner of the advertising technology category of the 2013 San Francisco Business Times Tech and Innovation Awards. Marin ...
Nidec Corp., a Japanese maker of small precision motors for computer equipment, appliances and autos, has the top-ranked management among major public companies in Japan, according to an exclusive survey by Institutional Investor.